Vern Switzer – Technician
Find this article at:
go.ncsu.edu/readext?853187
en Español

El inglés es el idioma de control de esta página. En la medida en que haya algún conflicto entre la traducción al inglés y la traducción, el inglés prevalece.

Al hacer clic en el enlace de traducción se activa un servicio de traducción gratuito para convertir la página al español. Al igual que con cualquier traducción por Internet, la conversión no es sensible al contexto y puede que no traduzca el texto en su significado original. NC State Extension no garantiza la exactitud del texto traducido. Por favor, tenga en cuenta que algunas aplicaciones y/o servicios pueden no funcionar como se espera cuando se traducen.

English is the controlling language of this page. To the extent there is any conflict between the English text and the translation, English controls.

Clicking on the translation link activates a free translation service to convert the page to Spanish. As with any Internet translation, the conversion is not context-sensitive and may not translate the text to its original meaning. NC State Extension does not guarantee the accuracy of the translated text. Please note that some applications and/or services may not function as expected when translated.

Collapse ▲
Vern Switzer – 2.9.2022
Technician  – below ground and above ground
Spring sounds to be early this year. The trilling melody of spring peepers fills the air at Vern Switzer's farm on the north side of Winston-Salem. Swaying gently in the breeze, rushes and other water grasses fringe the border of his farm. High hoop houses dot the landscape and our conversation begins as we walk toward one to enjoy the warmth. 
Vern is an innovator. Inside one hoop house he shares his plans for building a series of aquaponics raised beds. His vision is so clear that I can almost hear the water being pumped from one of his two ponds. In a second hoop house, Vern shares his vision for beginning hemp production and what steps will be taken for optimal irrigation and weed control.
There is a third  hoop house that is already occupied. Peeking in the window we can see the inquisitive eyes of chickens. We are welcomed by the sound of chickens tapping their beaks on the backside of the door. 
Vern points out the wire that encases the lower 4 feet of the interior. It keeps the varmints out and the chickens in at night. The hoop house gives the chickens warmth at night. Vern lets them out to pasture during the day. Feed in hand, Vern leads us into the chicken house. Clucking and squawking the chickens say thank you, thank you for the feed. One chicken begins to peck at Vern's foot. 
"What are you trying to do? Eat my foot?," Vern says with a teasing tone. The hen talks to him with a raised pitch and he talks to her, "I know it. I know it. Your job is to lay." Back to us he asks, "Do you hear her singing? She is about to lay. Get on little bit," he says to the hen. It's 40 degrees outside and 80 degrees inside. It's the perfect temperature for them.
As Vern pours the feed into the trough, the hens gather round and pile up top of each other like rushing water. Their russet and ochre feathers flap in a circular motion reminiscent of a bubbling fountain.
What were the 3 top pivotal moments of decision in your life?
Early in life, I left NC to live in New York. I needed space and time to get my life together. I came back a few years later and grew my first patch of watermelons when I was 22. The first crop was one of my best. People had tried to tell me then that I didn't know what I was doing, but they found out very quickly that I was being fed from on high. 
Another pivotal moment was getting my own farmland, where we are standing now. There have been a lot of ups and downs. There's no problem with ups and downs. You can't win it if you're not in it. My main desire was to stay in it. That's the same way with farming. I farmed for 35 years before I had what I would call a real successful year. When I was 70, I had a year of jubilee. Everything I touched turned into gold. If I never see that again that's fine by me. At least I got a chance to see it and to tell it.
When you meet someone for the first time, what is your preferred statement of identity?
When I introduce myself, I say my name is Vern Switzer. My occupation is a technician, an above the ground and below the ground technician. I've been farming consecutively for 42 years and I've been married for 42 years. My wife loves the eating part and she helps me with the harvest. The cooking part is her specialty.
I didn't get into farming for the money part of it. I'm in it for love. As I said it took many years to see the money part. It takes a lot to make a whole lot of people happy, but I am low maintenance. Beans and taters are good enough for me.
The USDA 2017 census of African American farmers included the following data:  African American farmers accounted for 1.4 percent of the country's 3.4 million producers, and they lived and farmed primarily in southeastern and mid-Atlantic states. Black producers were older and more likely to have served or to be serving in the military than U.S. producers overall. Their farms were smaller and the value of their agriculture sales was less than 1 percent of the U.S. total.
This data indicates an opportunity for growth.
Vern, thank you for your commitment to farming.
How would you describe your experience as a minority farmer?
It is not a job, but I would love to get more help. When I read the farming statistics about minorities in North Carolina, I don't see accuracy. (The last USDA census was in 2017. It recorded 10 African American farmers in Forsyth County, North Carolina.) I don't believe that I have been included in that count. Here in Forsyth County, when they say farmer, what kind of farmer are you? Relying on Google to find your local farmer is flawed.
What would it look like to be seen as a farmer?
The Google search results for Forsyth County, NC farmers should include a directory of minority farmers in Forsyth County. My name should appear on that list. This result should be for any minority farmer. The directory should include information such as years of experience and the farm's commodities.
The same USDA census indicates that all farmers are aging out, with the average age of farmers listed at 57.5. What steps have you taken to invite the next generation to consider farming as a profession?
I am active in trying to teach younger generations. Most beginners are trying to work full time jobs and farm. Farming needs all of your attention. When I begin my day, there are 10 items on my list and I am fortunate if 3-4 are complete by the end of the day.
If I were going teach a class, I would introduce agriculture this way:
What do you think about agriculture?

Start looking at your clothes. Do you realize that everything you've got is based on agriculture?

It's not just what you eat. Cotton is a world-wide commodity. That's how you reach children and get them to think.
Do you recall a mentor that impacted your life?
Yes. His name was Henry Jones. He told me that an excuse was nothing but a well-dressed lie. I would say 90 percent of the time that's exactly what it is. That comes back to farming. If you want to do it, you'll do it. Farming helps to take the curve balls of life and slows them down so you can hit them out of the park.
In the quiet stillness of morning, when you are looking across your fields, What gives you renewed energy to keep farming?
Number one is the will. That's what I pray for every year. I pray for determination. I don't ask for 20 more years, but I pray for just enough will to go for one more year. Next year I'll pray for another year. Ideas come to me 2 and 3 in the morning. It's too dark for me to do anything and so I eat breakfast and pray for daylight. How can you get ahead in bed? 
You've mentioned faith several times in our conversation. Your hat reads, "I walk by faith." How does farming help you to see the intersection between the seen and unseen worlds?
That's all faith is about, things hoped for, evidence of things not seen. You don't see it. A lot of times you just feel it. All you gotta do is to reach out and grab it. That's what farming is about. Once you put that seed in the ground it's out of sight but not out of mind. Once you get the right temperature and the right water to that seed, all of the sudden that seed comes from the invisible to the visible. Once that seed comes to the visible it's your job. It's not going to do anything unless you do your job. That seed was dead. God Almighty brought the seed from death to life. It's your job to embrace that seed. Once those seeds get big enough to produce some fruit for you and you can taste the fruit then you know you have done your job and God has done his job. That's what faith is all about. The book of James says that faith without works is dead. If I put that seed in the ground then I need to make preparations for it to get better. I can hope and pray but I also have to work.
How might Forsyth County citizens be better neighbors to their fellow farmers? 
Come to the farmer's market. Simple.
Come to the farmer's market. Simple.
Come to the farmer's market. Simple.
The things that you want fresh in the grocery store are not there like they used to be. If you don't know where you can go to get that food from a local farmer it will be sad.
What single commodity best represents your farm?
Watermelons. No ifs, ands or buts.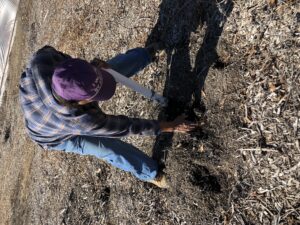 What advice would you give to backyard gardeners?
You have got to have good soil and good supplements for that soil. You've got to have manure either from chickens or cows. Give the manure 2-3 months to break down in the soil. I'll start preparing my watermelon transplants this month. My favorite variety is Lednum. Nothing in the world beats the taste. Watermelons are 92% water. How the water is formed inside those skins makes all the difference in the world. The sweetness and the meat combination is unbeatable.
Historical note on Citrullus lanatus:
The Lednum is a local heirloom seed. Round fruits have a very thin rind that makes shipping impossible, so Ledmon has been primarily passed down through families for generations. Incredibly sweet, round-ish, white seeded melons reach 30 lbs. or more. Developed in Guilford County in Greensboro, NC by J.E. Lednum in the early 20th century, Mr. Lednum's name was misspelled by a county Board of Agriculture employee in a 1938 pamphlet, and the misspelling stuck. In areas around Greensboro though, the melon is still called the Lednum with pride.
When you are selling your watermelons this summer, where can your neighbors find you?
Right behind the Goodwill on Coliseum Drive at the fairgrounds market. Get there early. I like to meet and greet people. Seeing the expression on people's faces and hearing their stories is one of the best parts of being a farmer. When they come back a week later and tell you how they enjoyed the fruit, it is grand. A farmer needs encouraging words. Telling someone when a job is well done, that's what love is all about.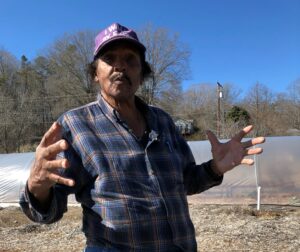 Words are powerful. Words can bless or curse. Who has spoken words of life to you? What did they say?
There was a member in my church who walked up to me one Sunday morning. He said, "You really don't know how awesome you are." Nobody ever spoke words like that to me in my life. He didn't know that I had taken a trip to California and had met a teacher who had shared with me the rules about teaching and she said the same idea. I am cautious to not let that idea convince me that I am more than I am. All you are in this world is a teacher for someone else. People can speak encouragement into your life, they can speak prophecy. A prophet is someone who speaks of the things to come in your life. If someone gives you a compliment, it is not a statement of how the world sees you, it's how they see you.
Encouragement is the beginning and the definition of teaching. It's like love and marriage, you can't have one without the other.
Farmers also need encouragement from the state. I welcome the visits from Cooperative Extension to check on us farmers. We need help accessing the grant money. I'm talking about all minority farmers who are working hard. I have long been an advocate for farmers. I went all the way to the Supreme Court to tell our story. Discrimination is still happening. When you apply for a loan they want you to jump through hoops. Farmers with a track record should be encouraged. How many years does a farmer have to work? Who is standing in line to take his place?
As the sun sets and the shadows grow long on the land, what do you hope will be your legacy?
Four words. He loved his work. I told my wife. If you don't see me come in at suppertime, if you can't find me and you come over here and find me sitting up against a tree or laying out in the field,  don't cry. Just be thankful that I died doing what I love to do. This is what I choose and what I love to do. Thank God I'm a farmer. Without God none of this would be possible. I just praise God for the opportunity to serve him in this manner. That's all I want to do, is to please him.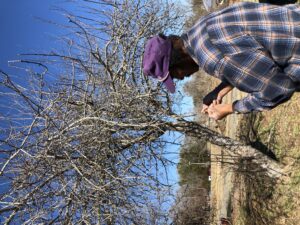 Celine Richard is the local Extension Agent for Agriculture  – Horticulture. Like all N.C. Cooperative Extension member employees, she serves with great care. She is active in supporting local farmers like Mr. Switzer. In a series of conversations like the one featured here, Celine shared the following resource with Vern: an overview of grants and cost-share programs available to farmers in NC. Often our office will walk farmers through the grant process. Our office doors, email and telephone are open to all of Forsyth County to use research based solutions to facilitate improved agricultural literacy and quality of life.
Be on the lookout for an upcoming webpage hosted by the N.C. Cooperative Extension. Basically a "Find a Forsyth Farmer" resource with a photo or two, name, brief description, website, social media and contact information. Vern is right. We need a directory of Forsyth Farmers.
Use the linked Google form to fill out information about your farm, share a photo and we can post that profile onto the webpage.
A word of appreciation: In this series of stories about local farmers,  I am grateful that farmers like Vern Switzer are willing to share their stories. My thanks go to Celine for her teamwork and for her ongoing support of Forsyth County farmers. I'm also grateful for the opportunity afforded by the N.C. Cooperative Extension who make it possible to share these stories with you.