Fermentation – Niki Farrington
Find this article at:
go.ncsu.edu/readext?840325
en Español

El inglés es el idioma de control de esta página. En la medida en que haya algún conflicto entre la traducción al inglés y la traducción, el inglés prevalece.

Al hacer clic en el enlace de traducción se activa un servicio de traducción gratuito para convertir la página al español. Al igual que con cualquier traducción por Internet, la conversión no es sensible al contexto y puede que no traduzca el texto en su significado original. NC State Extension no garantiza la exactitud del texto traducido. Por favor, tenga en cuenta que algunas aplicaciones y/o servicios pueden no funcionar como se espera cuando se traducen.

English is the controlling language of this page. To the extent there is any conflict between the English text and the translation, English controls.

Clicking on the translation link activates a free translation service to convert the page to Spanish. As with any Internet translation, the conversion is not context-sensitive and may not translate the text to its original meaning. NC State Extension does not guarantee the accuracy of the translated text. Please note that some applications and/or services may not function as expected when translated.

Collapse ▲
Niki Farrington – Executive chef of Willows Bistro and owner of Niki's Pickles in Pilot Mountain, NC.
What are your earliest memories of the garden?
My grandmother and mother always had gardens. As a child it was my play space. In the morning I would go out and eat tomatoes, peppers and green beans for breakfast.
The sense of taste develops over a person's lifetime. Tastes can even be placeholders for memory. What memories are evoked by pickles?
My parents were never tolerant of picky eating so I was not allowed to remove things from a sandwich or dish. I've been eating pickles since I was old enough to eat. The smell reminds me of my grandmothers, old crocks and jars. The person is the pickle. My pickles are super sour and super salty, like me.
What led you to choose cooking for our community as a career?
I was a social worker for almost 20 years. The last agency that I worked for I reported for fraud and so I ended up at home unemployed. At first I was proud of doing the right thing but then I got bored. A friend said, "You're living on next to nothing right now. If you could do anything in the world and pay the bills, what would you do?" My response was if I could pay the mortgage and serve people pickles, soup, bread and biscuits I would be happy. The next day I went to a tiny coffee shop in Pilot Mountain and started sweeping the floor for free. That was 10 years ago. 
Who has been your mentor?
So many people. The food community in Winston-Salem is so close. When I didn't know what I was doing the other chefs have always been welcoming and able to answer my questions. Whether it's ordering or technique or cuts. 
Mary Haglund has been instrumental. I was a  chef at Mary's Gourmet Diner. That was a baptism of fire. To come from a small coffee shop in Pilot Mountain to the kind of volume that Mary's did and I was able to learn while doing. Many of my crew that I still have came from that environment. Mary's patient and she's a home cook. She understands making that transition in volume and urgency from cooking for your family to cooking for the public. She taught me so much in making that scale up for a larger commercial kitchen.
How has your connection with agriculture shaped your career as a chef?
The thing about social work is that you're working with systems. A school system has to work with a family unit. Social services has to work with a church. The food community is not any different. We have to utilize the different forms with what they have available to keep them alive and to enrich the product that we put out. Managing the farmers, the farmers market and a business to serve each need and to keep an eye on cost and output. We also educate the public about these systems. Good management includes understanding the needs and limitations of the other. In that way it's no different than social work. The outcome is beautiful and nurturing food.
Michael Pollan has written a book, titled Cooked. In it he tells the story of man's history of cooking. Fermentation receives noble attention. The ancient practice of fermentation was considered mysterious and magical. We haven't had the tools to begin to understand the microbial world until the last 10 years. Tools to sequence our saliva and the tool to understand the ecology of our gut. 
He even describes people as superorganisms. We are 10% us and 90% microbial. In this view of our symbiotic relationship, I'd like to bring up your love for community.
Pickles are a visible representation of that elaborate microbial world. A reminder that we were made for the community.
How would you describe your view of people's need for community with each other? 
There's an old Appalachian term, pickle witch. The old wives tales warning was not to trust a woman whose pickles won't ferment and bread won't rise. Perhaps it has to do with provenance. Maybe you did not inherit a bread bowl or pickle crock that has the microbes hidden in the fissures. The microbes are the difference between a crisp pickle versus a limp pickle. The pickle maker is the pickle. When we hire new staff at the pickle factory they are not allowed to touch anything without gloved hands for a month. They have to become inhabited by the pickle. All parts of the community come together to make a pickle.
We can't lowball a local producer because then they can't pay their staff. Then they can't get their fields turned. We must respect going rates and what they need to operate a small scale business. Their hands are on each product, each jar in my case.
Pollan referenced a cheesemaker who describes fermentation as a form of cooking that is nature imperfectly mastered. The best you can do is kind of guide it down this pathway or that, but you can't call all the shots in a fermentation.
How do you guide the pathway of your pickling?
We use the same process each time. We taste it throughout the pickling process so that some corrections can be made along the way. There's a certain point at total pickle where you cannot turn around. We manage our mistakes. You have to be in touch with time of year, conditions in the factory and your personal conditions. The constraints of time and temperature needed to process that batch of pickles. Acidity and salinity have to be proper.
As a chef you are a practitioner of the arts. Seeing pickles as part of your palette, what are your favorite ways to use pickles in creating your masterpieces?
Pickles are not on every plate we serve, but when they are present they serve as the salt and sour elements. We've used pickled berries in desserts. When you think about the range of flavors: salty, sweet, spicy, sour, pickles can serve well. Textures as well the character of a pickle encompasses a great variety. Flavors can be mirrored in something special but not very bold, like a scallop.
Our pickles are never heated so they are not shelf stable. The pickle is alive. Fermentation is a type of cooking. Cell walls break down, solution rushes in, bacteria brews. We ferment at 42 degrees. It helps to protect the texture of the vegetable. We like it in that place where there's a definite crunch.
Any food we can digest can be fermented. What foods are on your wish-list to ferment?
I made some sour corn using an old Appalachian recipe. Reproducibility is hard. The vegetable source has to be the same. We've practiced more with our dill chips and we judge our incoming produce by its thickness of skin and seediness. Another favorite is pickled cranberries. We pickle with mustard seed and serve with mascarpone. It is surprisingly delicious.
Meals shared at a table are places of conversation, conflict resolution and declarations of love. How do you see that taking place in your restaurant?
I tell my staff that this is a space of safety and intimacy. You are holding the curtain. When I was in social work I worked in death and dying. It was not my grandmother who died but I could serve them in that experience. When people come to my restaurant, it may be the only time that couple meets. We don't know their conversation or circumstances. They could be discussing a marriage proposal or a death in the family. We can provide the love and support for that meal. That is something I think about every time I look across the dining room. Food is not the center of relationships, it supports relationships.
In the course of my visit to Willows Bistro, Niki has graciously offered to demonstrate her cooking skills. To begin: Mise en place. It's a French term that means establishment. The application of it is putting all ingredients out before the cooking begins: measured, cut, peeled, sliced, grated, etc. before you start cooking. Clusters of ramekin bowls filled with ingredients lay waiting on the long cutting board across front the commercial gas range.
Layering is a cooking technique. What does it mean? 
You're tasting all the time. With every addition you're tasting the elements and that dictates the seasoning.
How do the fermented elements play off of the other layers?
That adds the umami and some sour usually. 
Merlot pickled pears, toasted almonds, and roasted butternut squash are just a few of the delicacies that I see on Niki's tray of delights.
As Niki cooks, she is also teaching. Her role as head chef places her as a mentor to her kitchen staff. While her hands are preparing pans with oil and shallots she is also coordinating her staff. Niki's remarks, "My time serving as a social worker helped prepare me for this moment. Whenever a new staff member joins our team it's an interpersonal opportunity to educate without presumptions."
Two dishes are being prepared: scallop set and vegetarian set. Niki jokes, "So we turn our pan onto nuclear hot with a scant amount of oil. You don't want to fire a scallop in anything other than nuclear." The sizzle comes soon.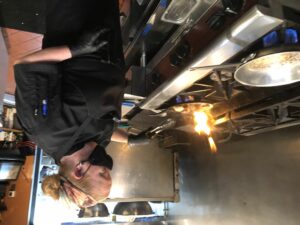 Roasted red pepper stuffed with black beans and couscous. The blackened pepper skin is starkly contrasted by the intense reds inside. 
The heat of the kitchen reminds me that we're cooking. It prompts me to ask. Fermentation is another type of cooking. How's it different?
Cooking breaks down cell walls and elevates the quality of the food. Heat does so by caramelization. Fermentation puts in good bacteria so that the bad bacteria can't live there. We refrigerate our fermented pickles because we want the crispness. 
How has your work in fermentation made you aware of the unseen world of microbes? Some people have likened it to the God particle. There is not a full understanding of how small that goes. Where does life begin? We understand that life begins in the bottom of a barrel, but how small does that go? We think of our bodies and pickles as being inhabited by microbes. There is more research to be done.
Do you see yourself as an artist or a scientist?
As a steward. I didn't invent the cucumber and I didn't create the bacteria. I didn't invent the scallop but it's my stewardship that makes it beautiful. That's the same that educators feel about their subject. They didn't invent their subject, like math, but their study of the subject creates art. This goes back to my role as a social worker. When I walked with people through the death of a loved one, my stewardship of that event made their death more beautiful. 
What questions do you want to see researched in the field of microbiology?
I really like the idea that some research suggests that eating fermented foods makes you happier. When we look at the health of fermentation, the most dramatic presentation of that will be in our affect. Our tum-tums might feel good but how that gut bacteria also affects our mental health and our outlook on the rest of the world. Any sort of ailment is going to limit your consumption of beauty and family and community. For me, I would like to see more research into how fermented foods affect your overall health with a lean towards mental health.
Article published by NCSU on the link between mental health and fermented food.
Can you imagine a world without fermentation?
There is not a world without fermentation. A rotting body is a fermenting body. As long as there is life, there is fermentation. To loosely quote Benjamin Franklin, "Wine is proof that God loves us and wants us to be happy." So many of the things we enjoy in life, booze, aromas are things in fermentation.
Our time ends with a lovely visual memory. Niki standing in front of her gas range, holding out two complete dishes. Pickles front and center.
N.C. Cooperative Extension serves each county of North Carolina with transforming science. We promote agricultural literacy by educating our citizens with the social, environmental and economic impacts of agriculture. My thanks go to Niki Farrington and her partnership with local farms to make Forsyth county a successful community.
Visit NC Farms is an smartphone app that features local food sources: farms, markets and restaurants like Willows. Jeffrey Cates, Program Assistant, 336-703-2859, jeff_cates@ncsu.edu