Microgreens – Fair Share Farm
Find this article at:
go.ncsu.edu/readext?838341
en Español

El inglés es el idioma de control de esta página. En la medida en que haya algún conflicto entre la traducción al inglés y la traducción, el inglés prevalece.

Al hacer clic en el enlace de traducción se activa un servicio de traducción gratuito para convertir la página al español. Al igual que con cualquier traducción por Internet, la conversión no es sensible al contexto y puede que no traduzca el texto en su significado original. NC State Extension no garantiza la exactitud del texto traducido. Por favor, tenga en cuenta que algunas aplicaciones y/o servicios pueden no funcionar como se espera cuando se traducen.

English is the controlling language of this page. To the extent there is any conflict between the English text and the translation, English controls.

Clicking on the translation link activates a free translation service to convert the page to Spanish. As with any Internet translation, the conversion is not context-sensitive and may not translate the text to its original meaning. NC State Extension does not guarantee the accuracy of the translated text. Please note that some applications and/or services may not function as expected when translated.

Collapse ▲
The air is crisp. The ground is hard. Up on the side of the white barn is a colorful painted quilt. Don't be fooled, growth is happening under the 20 caterpillar tunnels and in the greenhouse. Microgreens: Protein packed, nutritiously delicious and as small as a 1×2 LEGO.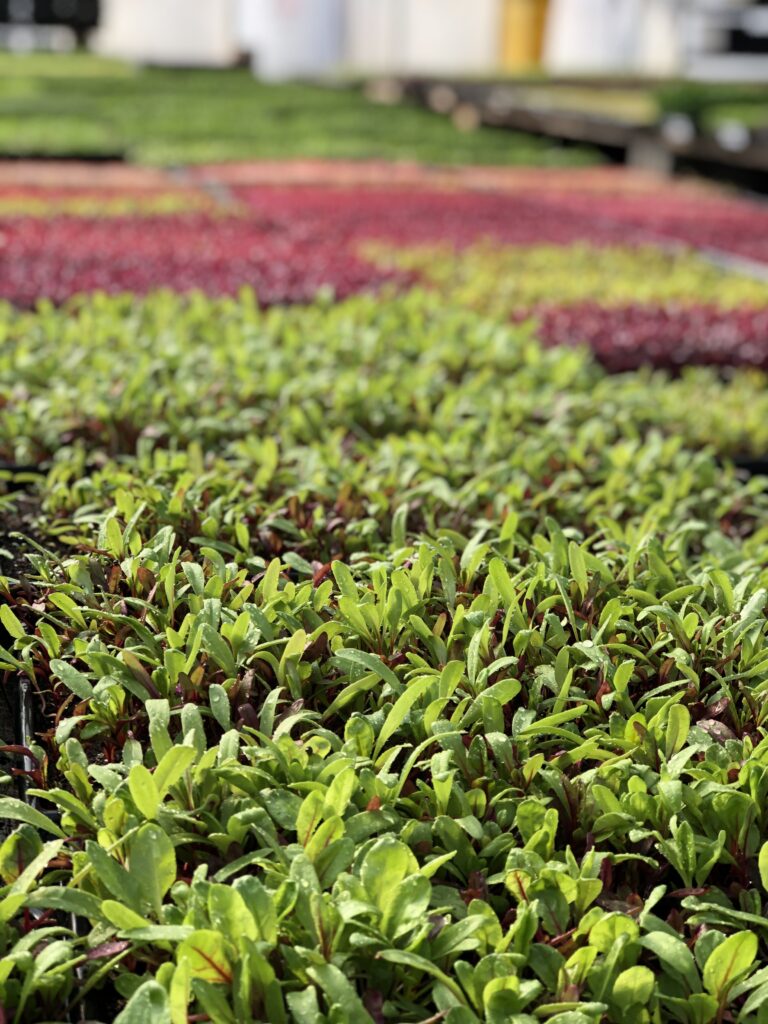 Emma Hendel and Elliot Seldner are the owners/operators of Fair Share Farm in Pfafftown, NC. For the past 6 years, this couple have served shoulder to shoulder in bringing a small farm back to life. What was once a dairy farm is now a sustainable urban farm that serves local restaurants and local farmers' markets. Celine Richard and myself recently enjoyed a conversation with Emma and we'd like to share it with you.
What are your tenants/ values? 
"It's about the best produce we can grow and we grow the things we like to eat. Being kind to the land which encompasses our organic production, growing the soil, building life in the soil, preserving our best asset. Making a living doing it, paying ourselves our staff and bringing the best product to our customers."
Let's take a look inside the greenhouse: before me lies a patchwork quilt of greens: chartreuse, viridian and of course chlorophyll. The air is full of natural light and Emma's glasses get fogged up by the shift in temperature. 
"In this part of the world we can get by without artificial light." All different stages of microgreens are in tidy squares. At the end of the row we meet the introductory microgreen: sunflower shoots. "We stack them up because it helps the seeds to germinate. They love the pressure on top. Sunflower shoots, pea shoots and radish are the three to start with. You'll have the most success. They want to grow." Emma offers us a taste. Delicious. A handful of sunflower shoots has the same amount of protein as an ounce of chicken.
In the winter, the growth rate stretches out as the light length lowers. But if a grower is using assisted light, this condition can be changed. Kale, brassicas, dill, fennel and mustards fill the view as we continue our survey of the microgreen beds. The main outlet for this commodity is local restaurants and caterers. At the Cobblestone Farmers Market, Emma sells her microgreens and salads to Forsyth County citizens. She credits part of their success to a revival. "A lot of people were into sprouts in the 60's and 70's and we were at the right point in the cycle in 2014 as the revival of interest began."
Seeds. Every tray is seeded by hand. Emma keeps talking as she waves her water wand over the trays for a quick drink. She advises that if you grow these in your basement, be sure to keep the temperature above 40 degrees Fahrenheit. 
What made you and Elliot fall in love with farming?
"Elliot really wanted to be in a job that was outside. He thought farming was romantic. It's not that romantic but he still liked it once that vision proved false. But you get to be outside. None of this is my idea, but I like to do a good job at things. I do all of the office work, like making sure we get paid, invoicing. Today I am in the process of hiring a new greenhouse manager. So right now Eliot and I are back to our original roles of working in the greenhouse." 
Emma shared one of the secrets of their success.
The farming venture began with Elliot's vision and passion for farming. Emma continued working as a teacher and this division of labor allowed Emma's job to be a stabilizing factor in the early phase of bringing the farm online. Their skills of planting, watering and bookkeeping are unified in their farm. It's romantic.
Have your reading habits changed since college?
"In college, Eliot studied English literature and I studied social studies education. We like learning. Now Elliot reads farming books and magazines. I still read mostly science fiction. Parable of the Sower by Octavia Butler was a good one."
Farms and cities are generally considered separate entities. How did you and Elliot choose this location in Pfafftown, so close to Winston-Salem?
"We had a friend that was working for Carolina Farm Stewardship Association (CFSA). He hooked us with the previous land owner. We chose this location because it was available, the owner's values lined up with ours and being so close to downtown is really nice."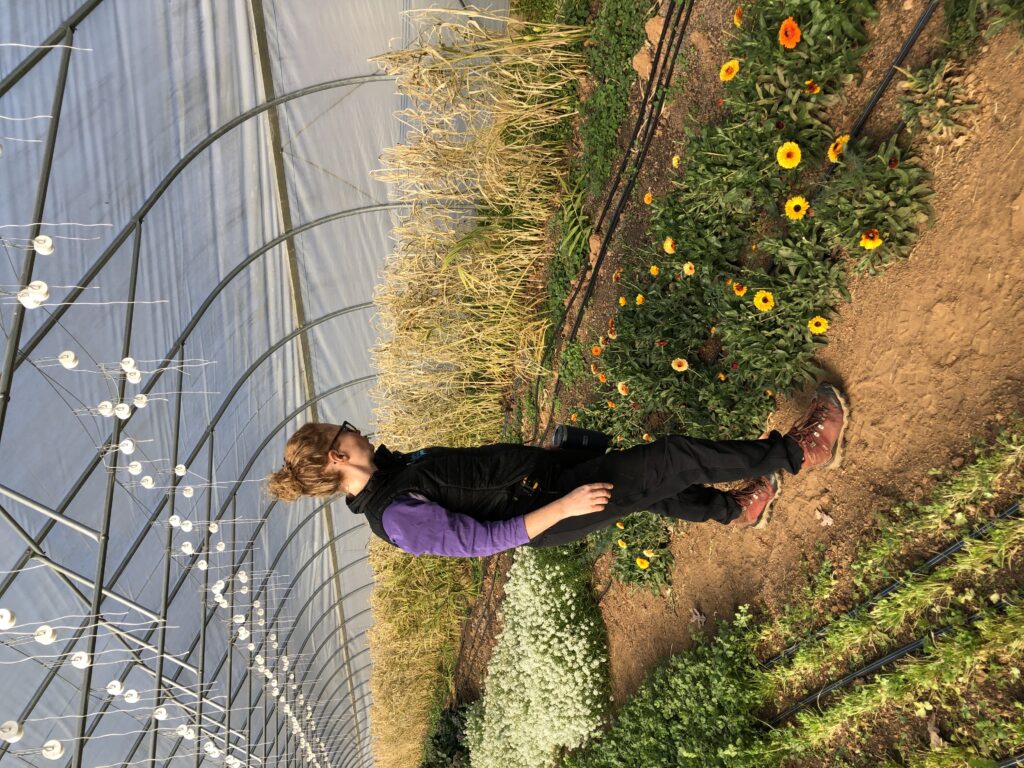 Our tour continues into another greenhouse and Emma talks about flowers. "Right now we can grow calendula, alyssum, borage and bachelor button. They grow pretty well throughout the winter." There's a distinct smell in the air, so refreshing that I ask Emma about it. "That's the soil." If you're a soil science nerd, check out this link about the molecular level activity indicated by that soil smell. There's also a hint of cilantro. Emma said they fresh cut cilantro that morning. 
At the N.C. Cooperative Extension our goal is agricultural literacy. We are in a series of conversations about the economic, social and social significance of agriculture. How does what you do here impact the community?
"A lot of our neighbors shop here. Our neighboring farmers grow different items and we promote them. Having a fresh produce option pretty much year around is important. Having a farm in the community and not pushed out where no one can see it, helps normalize it. Sometimes people stop into the farm and don't quite believe that this is a place where food is produced." 52 weeks out of the year, Fair Share Farm is producing food because this is their full time employment for them and their staff. "If you're not making money in the winter, it is hard to get restarted in the spring without loans. The farmer is often in so much debt that he can't be innovative. There's a lot of demand for salad in the winter time."
STEM Education for youth is one of the services of the N.C. Cooperative Education. Microgreens are at the center of one curriculum offering. What advice do you have for students to understand seeds?
"A seed has all of the energy that a plant needs to make it to sexual maturity. It has a lot of energy in it . That's why people eat seeds and nuts for energy. It's like a little life package. With seeds, you don't want to put it too deep. It needs plenty of water. They all have their optimal temperature for germination. Seeds are also cool because they'll go dormant if the conditions aren't right and then they can wake up years later when things are right… Seeds. Emma says enchantingly.
Emma has led us into the barn, a dirt floor, rough cut trusses and sunlight streaming in through the wide open doors. It's time to go to microgreen school.
Step one: Emma tips a white bucket down towards my eye. At first the water appeared to be murky, but now I can see seeds. "I have soaked the pea shoots overnight so the process of imbibition starts." Emma says imbibition with mystery. "It's the process of the seed taking up water until it explodes. It's one of the three actions of water. What's really cool about microgreens versus sprouts, is that they are so much safer to consume, especially if you're using natural light. After it sprouts it gets exposed to the sunlight,  it gets natural bacteria control. Sprouts grown in water are in the dark, it's moist, there's a lot of chance for bad things to happen. That's why we only use city water to water the microgreens and not surface water. 
Also, use a seed marketed as a microgreen, because the handling will be more careful so that there's no bacteria coating the seed when you receive it." 
Step two: Potting medium is raked into a shallow tray. Any size works. In our upcoming workshop held at N.C. Cooperative Extension we'll use recycled containers. Compress the soil by stacking the trays together.
The garden is an unconventional classroom. Do you still see yourself as a teacher?
"Oh yeah, definitely. There's so many different things going on at the farm. There's always somebody that needs to learn something. We're always having people join the team, leave the team or take time off. Teaching people computer skills." She watches me fill a tray with a potting medium. "That's pretty good, but you've overfilled it. If you were going for speed, this is the technique: tilt the tray at a slight angle and use your arms to rake soil into the tray. Don't be afraid to get dirty. Done. You don't want the soil to end up higher than the tray because when you water the seeds it will float the seeds out and it will be a waste of seed and soil. That's a reason for compressing the trays before adding the seed."
Step three: Measure the seeds and spread by hand onto the tray. With an open palm she rolls the peas evenly across the soil. Light pressure is applied. Germination takes place in a temperature controlled environment. Light is not necessary yet. Emma tracks all of their seed trays with Google Sheets. It allows her to measure the success of seed to tray ratios. 
Step 4: Water. It takes a little practice. Emma demonstrates first. She offers me a try. Emma coaches me, "Give it all the pressure. You don't want to blast it so you shoot seed out of the area. Don't flood it so that seed runs off." That's why I came to microgreen school. She gives me another chance. "You gotta be confident when you're using the watering wand.
Small farms have been on the decline since WWII. How do you see your place in that revival?
"It's great to grow your own food. We live here, we work here. It's great and I like that. 
Soil and water are two parts of our geosphere that are often taken for granted because in the city we have control of such small portions. Farmers are stewards of larger portions of our environment. As a farmer, how do you view soil and water?
"It's a resource. Without it we can't grow. We have access to good city water. If you didn't have that access, how would you be able to have a clean product and be safe. That's a crazy thought. It's the same with the soil. In some places you can't grow because of what's been done there previously. Add to that trees being taken down adds to soil runoff. It's a resource to be protected. We have to find a balance between development and conversation."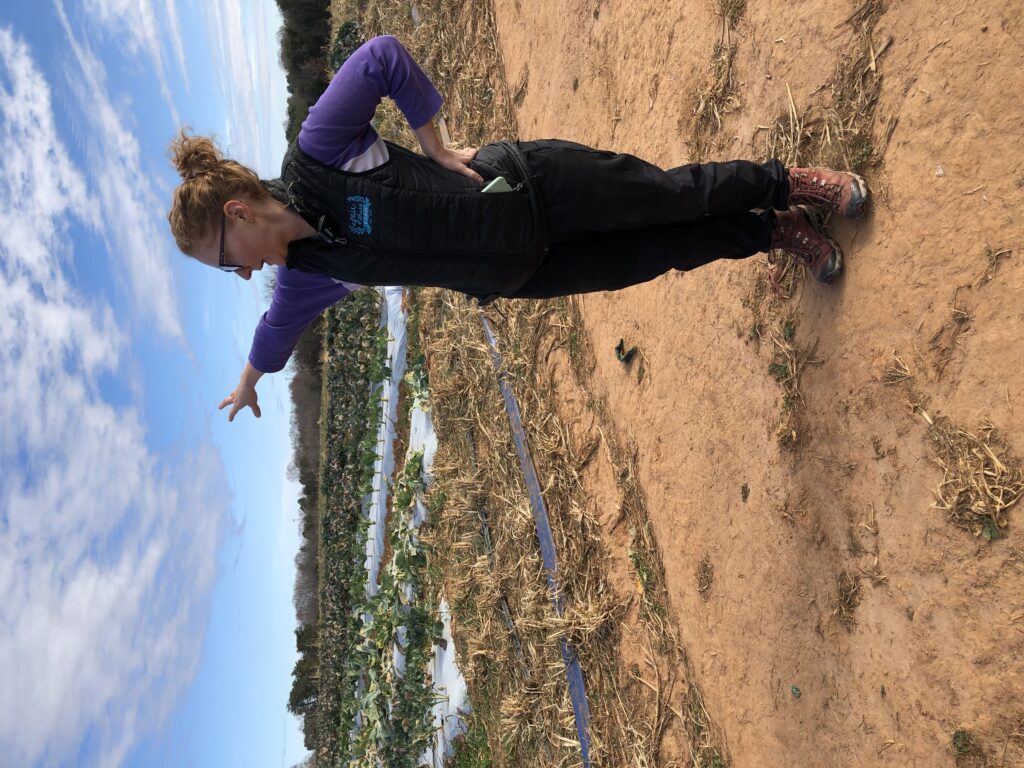 Across the street, Fair Share Farm is leasing several acres of land for planting. We cross the road and Emma gives us her eyes of experience.
"In the summer there were tomatoes. Afterwards, Elliot sowed oats, sudan grass and clover. We're talking about cover crops. Emma envisions sunflowers for the coming spring, a different cover crop. "Just to look at," she laughs. 
Emma crouches down along one row and pulls up another cover crop, a radish. "The radishes are a little freezy. Ah, here's one. It's a no-till way of bringing nutrients from the bottom up. The root helps aerate the soil. The tops are also a great green manure/ biomass. This isn't to eat. It's a cover crop, just to feed the soil. Cash crops versus cover crops: One is sold in the market. The other sustains the soil. I hope that more people are learning more or are remembering more about this relationship."
We meet a group of Fair Share Farm staff packing greens to go to customers: Hannah, Alison and Caitlin are packing buttercrunch lettuce mix. Emma makes a kind introduction and adds, "If you have any questions about your yard, call the N.C. Cooperative Extension office."
Fair Share Farm has a fantastic staff. How does their ingenuity and diligence contribute to your success?
"We can't do it all ourselves. While the business may have started with just the two of us, we have grown it to the point where we rely on our team and we're successful because of them. It's our responsibility to equip them to know how to do it right. Without a crew there is not a business."
Elliot has a great sense of humor. How do you both keep laughing and joyful in the midst of your labor?
It is a serious business. Over the years, something we've learned is that it's not that it gets less stressful or the pressure goes away. But if you can figure out how to handle it. The reality is when you're farming, you're doing every aspect of it for yourself. A hundred things will go wrong everyday. It's not going to change, but you can handle it. Things go wrong all the time. It's easier to give up than to figure it out.
Extension agent, Celine Richard, is offering an upcoming microgreen workshop. What would you say to our community to advocate for this event?
Microgreens are available to everyone. Microgreens are a great way to learn very quickly. You will have multiple times a week to try, try again and improve. It's a quick way to produce food that has a lot of nutrition. For businesses that want to run a CSA, having a salad option besides lettuce, like microgreens is a great option. Microgreen is for someone who is considering a hobby or someone that is interested in growing something different."