Discover Your Way: 4-H Summer Camp 2019
Want your 8-14 year old to experience the best week of their life? Send them to 4-H Camp at one of our three 
4-H camping centers
. Overnight camps run from June 9 until August 9 and are Sunday through Friday.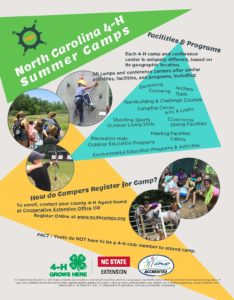 See video from Summer Camp 2018.
Camp fees include lodging, activities, a camp t-shirt, two snack breaks a day, programming and meals. Space is limited and dates vary by camp location. Traditional camp for 8-12-year-olds is $420. The cost for 13-14-year-olds is $440.
Cloverbuds or 5-8-year-olds may attend two nights and three days at the Eastern 4-H Center for $300 July 21–26 or $185 at Millstone 4-H Center June 30–July 2.
To Discover Your Way to camp contact: Call April Bowman, Extension Agent, Livestock, Forages and 4-H Youth Development
OR
Monique Pearce-Brady, Extension Agent, 4-H Youth Development