2018 Plant Sale at the Arboretum at Tanglewood Park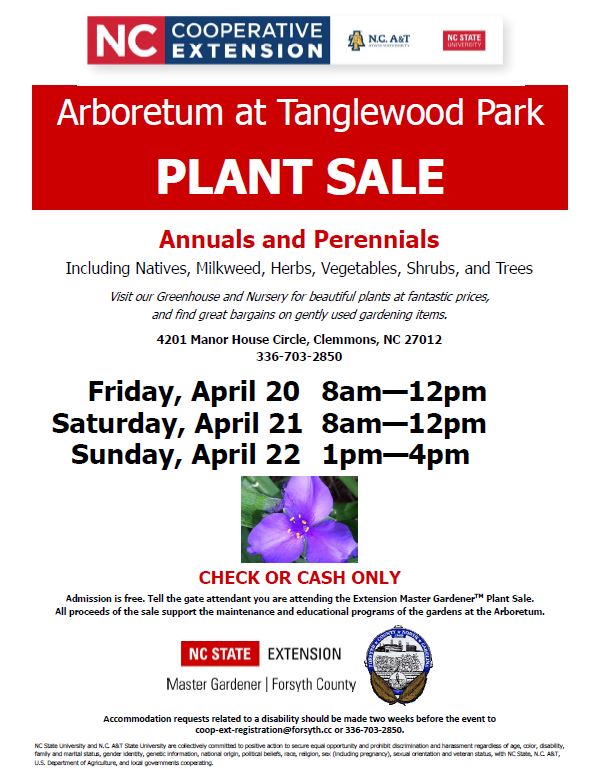 This year's Extension Master GardenerSM Volunteer Spring Plant Sale will be held on:
Friday, April 20: 8 a.m.-12 noon
Saturday, April 21: 8 a.m.-12 noon
Sunday, April 22: 1 p.m.-4 p.m.
Event Location:
The Arboretum at Tanglewood Park
4201 Manor House Circle
Clemmons, NC 27012
Stroll the lanes and enjoy the beauty of the gardens at the Arboretum while making your way to one of Forsyth County's premier plant sales. Shop early for the best selection from our inventory of unique annuals and perennials, as well as those hard-to-find and sought-after native plants.
All proceeds benefit the Arboretum and Extension Master GardenerSM Volunteer educational programs. The Arboretum at Tanglewood Park is managed by N.C. Cooperative Extension, Forsyth County Center, with the assistance of Extension Master Gardener Volunteers.
While you are at the plant sale, don't forget to stop by the Boutique for great bargains on gently used gardening items.
Please note that this sale is cash or check only. For questions about the sale, please call 336-703-2850.